"We are Passionate about caring for your pet!"
Our goal is to combine our business expertise with our love and caring for pets to ensure that Sunland Acres Pet Camp remains the number one choice for the discerning pet owner.
We invite you to schedule a complimentary daytime or overnight stay with us so you too, can feel the excitement that we feel as the caretakers of this "best kept secret in St. Johns County."
Our Team:
Lynn & James Lamoureux
Owners James and Lynn Lamoureux are Jacksonville natives who have worked in the pet industry since the mid-1970s.
James is the only Internationally Certified Professional Animal Care Provider in the North Florida area, certified by the Professional Animal Care Certification Council.
As lifelong dog and cat lovers, James and Lynn appreciated the opportunity to step in and carry on former owner Marjorie Winchester's legacy of providing a comfortable, safe and fun environment for your beloved cats and dogs.
James and Lynn place a high value on giving back to the community. The team at Sunland Acres Pet Boarding has volunteered more than three hundred boarding days to rescue dogs last year.
Meet our team: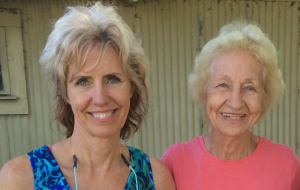 Lynn Lamoureux
Marjorie was the owner of Sunland Acres for 35 years prior to James and Lynn taking ownership.  Lynn's belief that every dog matters is apparent as she oversees the daily operations of Sunland Acres.
A Jacksonville native, Lynn has been in the pet care industry for over four decades. By empowering the Sunland Acres team to do whatever it takes to keep customers satisfied, Lynn can focus on the facility's daily operations such as marketing, staffing, and training to ensure all guests are happy and comfortable.
Camper Safety is a top priority and Lynn, along with manager Tish, routinely review and test the facility's safety procedures and identify any areas needing repairs.
Lynn and daughter Erica are also co-owners of Green Dog Spa, where dogs and cats are served by a highly-trained team using a safe, natural approach.
It has truly been a blessing to own businesses that allow us to mentor other dog lovers and to hire and train dog bathers, groomers, and kennel technicians. The most exciting part of this career is seeing the smiles from pet parents upon their return from a trip or after their pet's new haircut, and seeing groomers accomplish goals they never dreamed possible!
James Lamoureux, CPACP
James C. Lamoureux is the Vice President and Co-Owner of Sunland Acres. Operating the business for the last 3-1/2 years has been a blessing for him and his tremendous wife and business partner, Lynn.
James demonstrates his commitment to the pet industry by being the only pet boarding facility operator in Northeast Florida who is nationally certified as an animal care provider by the Professional Animal Care Certification Council (PACCC). James qualified as a Certified Professional Animal Care Provider, (CPACP), by attending classes and passing a rigorous in-person exam on the PACCC Body of Knowledge and meeting the eligibility requirements of the certifying body. James annually requalifies and renews his certification. View James' credentials here.
PACCC was formed to provide a testing and certification process for pet boarding staff. PACCC wants to help pet parents find the safest facilities for their pets by certifying those providers who meet the highest standards. Sunland Acres is the only Pet Boarding facility in Northeast Florida to have a nationally certified animal care provider on board.
James ensures all Sunland staff receives initial and on-going training in pet safety and camp operating procedures to keep everyone up-to-date. He also participates in business operations, staff hiring, and oversees facility maintenance.
He is a Florida State Certified Building Contractor and has been in the construction business for over 46 years.
James has been a student of the Martial Arts for 39 years and holds a 4th Degree Black Belt in Tae Kwon Do. He became a Certified Master Tae Kwon Do Instructor in 2012 and is the Founder and Chief Instructor of the Christian Tae Kwon Do Academy in St. Johns, Florida.
In 1992, Lynn Lamoureux, President of Sunland Acres, decided to enroll her two children, Erica and Travis in Martial Arts classes where James was assisting with the teaching and operation of a Tae Kwon Do school in Mandarin for 9th Degree Grand Master William Clark.
Before assuming ownership of Sunland Acres, James and Lynn were business partners in four pet store locations in the Northeast Florida area. They were married in 1994 and raised a blended family with the help of their God and church.
Through the successes of their businesses, the opportunity came in 2016 to purchase the well-established Sunland Acres Pet Boarding Camp. Having the chance to carry on the legacy of the camp founder, Marjorie Winchester, has been a blessing. Serving the Fruit Cove community where they have resided since 1995 is very rewarding.
"We are blessed to serve some of the best Pet Parents in our area and appreciate the trust they place in us to take care of their family members."
Tish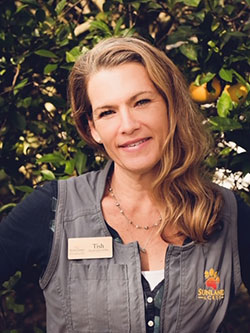 Tish is the Team Manager here at Sunland Acres and, as such, promotes a culture of safety at the forefront of everything happening at Sunland Acres. She helps ensure that Sunland's promise of customer care is fulfilled.
Tish's experience working alongside veterinarians in animal hospitals and rescues makes her a uniquely qualified team member. She brings to her job extensive experience with a wide variety of domestic and exotic animals, including dogs, cats, horses, and wild animals. She loves working at Sunland Acres because it feels like home, where animals are cared for and loved as they would be in their own homes.
Tish is a former owner of a dog boarding/grooming business in Miami, where she was also a demonstrator with wildlife shows and exotic animal displays. She currently has three dogs, a cat and a snake. Her favorite breed of dog is a Great Dane; she has owned three of them in her life.
Pam, NCG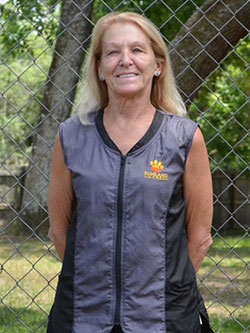 As our Camp Director at Sunland Acres, Pam's goal is to provide the best comfort and safety for furry four-legged guests. She helps assign our furry campers to the best-suited location where they will be comfortable in their surroundings.
She is a Nationally Certified Groomer (NCG) through the National Dog Groomers Association of America and does most of the grooming here at Sunland Acres! Pam has worked with Lynn and James for over ten years and enjoys working at Sunland Acres because she loves working with animals and like-minded people.
Pam is originally from New Hampshire, but after living in Florida for over 15 years, she considers herself a true Floridian. Pam has five dogs and says her favorite breed of dog is the Jack Russel Terrier because of their big personalities. For fun, Pam enjoys paddle boarding, practicing yoga, swimming, and going to the beach!
Braidyn
Braidyn is the Assistant Manager at Sunland responsible for pet care and facility cleanliness and making sure the camp is ready to receive incoming guests. She works as part of the fun, animal-loving team to ensure Sunland Acres provides the best possible experience for guests and their owners.
Braidyn has had animals all her life and currently resides with one dog and three cats. Her favorite dog breed is Pit Bulls, but she loves every dog she meets, big or small. A native Ohioan, Braidyn is also working on her Bachelor's Degree at the University of North Florida. .
Allison
Allison loves all animals, caring for campers while helping to keep the facilities clean and up to the camp's high standards. She enjoys working at Sunland Acres because she is genuinely passionate about animals. Every day that she works with dogs is a new adventure!
On the personal side, Allison cares for seven pets: four cats, a rabbit, a bearded dragon, and a red-footed tortoise. Her favorite breed of dog is a Golden Doodle because of their intelligence and friendliness.
Allison will soon be starting college at Florida Atlantic University while continuing to care for campers at Sunland Acres. She is a 1st Degree Black Belt Tae Kwon Do student.  When she is not caring for her pets or attending classes, she loves playing softball.
Cat
Cat is one of Sunland's dog trainers and puppy evaluators. She is certified by the American Kennel Club as a Canine Good Citizen (CGC) and STAR (Socialization, Training, Activity, Responsibility) Puppy Evaluator, as well as pet CPR-certified.
Cat has worked with dogs for over five years and began her dog training journey three years ago by working with Service Dogs. She studied with recognized mentors and then began practicing pet obedience and behavior modification a year ago. She loves working with eager students who care so deeply about their dogs.
Cat also grooms dogs at our sister location, Green Dog Spa. She is an animal-lover with two dogs and a Manx cat. She loves every breed of dog but especially enjoys the challenge of working with mischievous dogs and their caring owners. In her free time, she plays and trains with her dogs, Sloth and Zulu, and attends training and grooming seminars to grow and maintain her skills.
Robert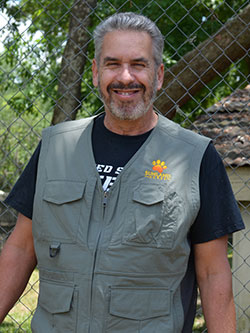 Robert loves working at Sunland Acres because he enjoys the friendly and fun atmosphere and loves to help animals in any way he can! His primary role is feeding our campers and administering medications where needed. But he would say his primary role is to pass out treats and belly rubs!
Robert has had dogs and cats all his life, and he currently has a Miniature Schnauzer along with five cats, all of which are rescues. A Miami native, Robert moved to Jacksonville to be closer to family. When Robert isn't at Sunland Acres, you can find him getting his "foodie" on by cooking and trying new foods for fun!
Joey
Joey cares for our campers and maintains the facilities and grounds, as well as anything else that that arises. He loves working at Sunland Acres because he is continuously meeting new dogs and their owners!
Joey is a lifelong dog-lover who currently has a rescue mix named Bailey, a four-legged family member for over ten years. One of Joey's favorite breeds of dog is the Siberian Husky.
A Fruit Cove native, Joey is studying Mechanical Engineering at the University of North Florida as well as working on his 1972 Chevy C10 and going to dirt track races in his spare time!
Kristen
Kristen loves caring for all Sunland campers but holds a special place in her heart for visiting senior dogs and dogs that need some extra TLC. She loves working with great coworkers to create a fun and safe environment for all furry clients, and says this is the best job ever!
Kristen has four amazing dogs at home; although she doesn't have a favorite breed of dog, if "scruffy with their tongues sticking out" was a breed, that would easily be hers! Playing with her kids and her dogs in her free time, shopping at crafts stores, and a good cup of coffee makes her happy!
Kristen is originally from Columbus, Ohio but the Navy brought her and her family to Jacksonville, from Washington state, a year ago.
Noel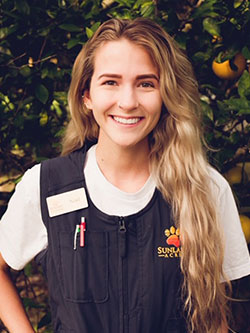 Noel gives daily care and comfort to each camper as if they are her own pets, while also maintaining the Sunland Acres Instagram and Facebook pages. She is pet CPR- and First Aid-certified. She loves working at Sunland Acres, where she is surrounded by caring people and wagging tails every day.
Noel is a Jacksonville native who has had animals of every kind all her life, earning her home the nickname of "The Zoo." She currently has two dogs, two cats, and a fish. While she doesn't have a favorite dog breed, she is drawn to large breeds of dogs. Her passion for animals knows no bounds
In her free time, you can find Noel studying for her degree in Environmental Science, painting, or training her Siberian Husky!